Driver
In the year 2002, after graduation from school, we hit the road the first time together. Few map material, but a lot of hunger for miles brought us to the lake of Geneva and the Mediterranean coasts of France and Spain. On our way back to Germany we had a short but unintended stop at the mountains of the Pyrenees because we needed a new v-belt. The gentle Mr Jose helped us out in his backyard garage.
Altogether that were 12 days with round about 6000 km (3730 miles), Mikanov and Ravioli which should be a foretaste of following trips.
After a few solo trips we will take the steering wheel back in to our hands and hit the road again: OUT BUG OUT!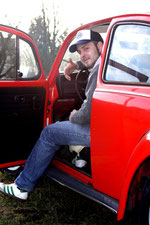 Driver:                          Hendric
Year of construction:     1981
Status:                         Student
Experience:                  _Roadtrip through
                                   Europe (2002)
Driver:                      Dirk
Year of construction: 1982
Status:                     Student
Experience:              _3 Roadtrips in
                               Europe 2002/
                               05/08
                               _2 Roadtrips in
                               the USA 2007